PRESS RELEASE
The 43rd Tokyo Motor Show 2013
Announcement of Official Sponsors
JNR-2013-48
November 12, 2013
The Japan Automobile Manufacturers Association, Inc. (Chairman: Akio Toyoda) is pleased to announce the official sponsors of the 43rd Tokyo Motor Show 2013 (as of November 7) below. Various events are being planned with the cooperation of these sponsors so visitors can expect added excitement and enjoyment for the Tokyo Motor Show.
Sony Computer Entertainment Inc. / "Grand Turismo 6" (Ongoing)

Visitors can try out "Grand Turismo 6" exclusively for "PlayStation® 3" at a special booth at the 43rd Tokyo Motor Show 2013 before its scheduled release on December 5, 2013. "Grand Turismo 6" has evolved to become even more realistic with an upgraded game core system and partnerships with new companies.
Asahi Breweries, Ltd. / Asahi Dry Zero (New)

Asahi Breweries' nonalcoholic beer-taste soft drink "Asahi Dry Zero" has been chosen as the official beer-taste soft drink of the 43rd Tokyo Motor Show 2013 in support of our initiatives to eliminate driving under the influence of alcohol. The exclusive "Asahi Dry Zero Tokyo Motor Show original design can" (see photo) has been manufactured to commemorate this. An open campaign is now underway to give away product in this original design can (two-can set). (Entrants must be 20 years of age or older.) The website address is below. http://www.asahibeer.co.jp/dryzero/cp/131106-131202/
JCB Co., Ltd. / Toyota Finance Corporation / QUICPay(New)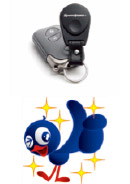 A corner will be installed for visitors to experience a "lifestyle of touch-and-pay" by using QUICPay Master, which is a QUICPay game app. A sign-up booth for Speedpass Plus (non-contact payment tool that can be used at Esso, Mobil and General brand self-service Express SS), which supports the car-owner lifestyle, will also be set up next to this. Those who sign up will receive an original the 43rd Tokyo Motor Show 2013 limited-edition sticker made especially for the QUICPay card. The character "QPay" will also be at the booth to add excitement.
For inquiries about sponsorship: