PRESS RELEASE
The 44th Tokyo Motor Show 2015
-Outline of SMART MOBILITY CITY 2015 Announced-
JNR-2014-46
November 12, 2014
The Japan Automobile Manufacturers Association, Inc. (JAMA, Chairman: Fumihiko Ike) is pleased to announce that the organizer-themed project "SMART MOBILITY CITY 2015" will be held at the 44th Tokyo Motor Show 2015 (show dates: October 29 (Thu) – November 8 (Sun), 2015).
SMART MOBILITY CITY was first launched at the 42nd show in 2011 as one of our initiatives to become the top technology motor show in the world and an international motor show that has presence with the ability to deliver information. This year will be the third installment, in which we again team with a wide range of companies from industries such as house building, telecommunications, energy, and materials. Through this project, we promote the innovative spirit of Japan's technology for smart communities and ITS evolving around cars, to both Japan and abroad.
Focusing on freedom, we established the theme for this project as "With more freedom… change for cars, change for lifestyles, change for society." We will propose cars, lifestyles, and a society that offer the freedom to choose energy sources and the freedom to easily and conveniently use information and services. These will also offer freedom for international visitors, using their native language, and those with physical disabilities, to travel more safely, easily, and comfortably with reassurance.
The concept of exhibitions will evolve and transform dramatically, being evocative of the new evolution of Tokyo targeting 2020 and advanced urban systems beyond that. In collaboration with exhibitors from a variety of fields, we will create this "city of tomorrow" where visitors can physically experience the city-car-people relationship in an exhibit format for the first time. While strolling through this city, visitors will experience the fun and joy of next-generation cars, new lifestyles, social changes, and values.
On Wednesday, November 19, the Japan Automobile Manufacturers Association, Inc. will convene a briefing for potential exhibitors of "SMART MOBILITY CITY 2015".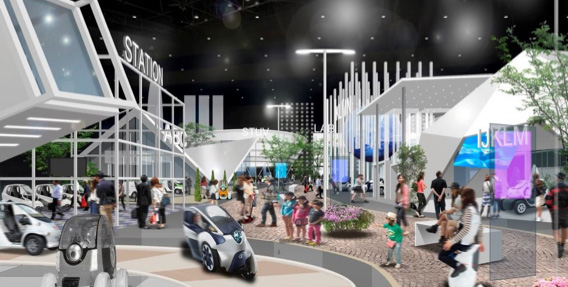 [Venue Image]
SMART MOBILITY CITY 2015 Outline
Name
SMART MOBILITY CITY 2015
Theme
With more freedom... change for cars, change for lifestyles, change for society.
Dates
October 29 (Thu) – November 8 (Sun), 2015
October 28 (Wed), 29 (Thu): Press Days
October 29 (Thu), 14:30: Preview Day / Special Invitation Day for Persons with Disabilities
October 30 (Fri): Official Ceremony Day (Guests for opening ceremony, etc.)
October 30 (Fri) 12:30-: General Public Days
Venue
Tokyo Big Sight (West Hall 4 and Rooftop Exhibition Area / Conference Tower)
Admission Fee
Free (Tokyo Motor Show admission ticket required)
Content
- Exhibitions:
Themed exhibits by the organizer and exhibits presenting advanced technologies/products by private companies, related organizations, and others
- Test Rides:
Test rides and demonstrations of next-generation mobility (personal mobility/micro mobility, etc.) from Japan and abroad and automated driving
- Conferences:
A diversity of programs for audiences ranging from professional engineers to children with topics such as the latest technology development trends and new culture/lifestyles
SMART MOBILITY CITY 2015 for Exhibitor Briefing
Date and time
Wednesday, November 19, 2014 from 14:00 (registration begins at 13:30)
Place
Kuruma Plaza conference rooms 1, 2, 3
Jidosha Kaikan 1F, 1-30 Shiba Daimon 1-chome, Minato-ku, Tokyo
次第
1. Explanation of project outline
A. Exhibitions (private company exhibits, organizer exhibits, etc.)
B. Test Rides (personal mobility, micro mobility, automated driving, etc.)
C. Conferences (symposiums, business seminars, kids' workshops, etc.)
2. Exhibit regulations
3. Question and answer session
The application deadline to exhibit in SMART MOBILITY CITY 2015 is Friday, January 16, 2015.
Contact
SMART MOBILITY CITY 2015 Office
 2-16-7 Ginza, Chuo-ku, Tokyo 104-8161 Japan
TEL +81-3-5565-4337, FAX +81-3-5565-4383
E-mail: smc-support@dmc.dentsu.co.jp
# # #